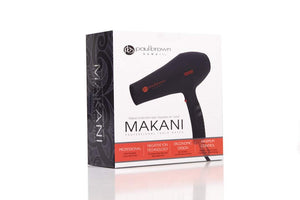 Paul Brown Makani Blow Dryer
Up to 50% faster drying time, and with controlled high-velocity airflow that disperses evenly around the hair to reduce frizz.
Over 50% quieter operation, and with heat-shield technology, so dryer stays cool, even during close-up styling.
Lasts 5X Longer than traditional motor dryers and emits infrared heat and negative ions for shinier hair and a protective barrier to help avoid heat damage.
Our professional dryer will dry your hair in half the time. And you deserve a blowout without frizz,  flyaways, or any other kind hair-grief a blow-dryer that's not up to snuff will add to your precious crown. You deserve to get that flawless look in the comfort of your own home. But, you've got to have the right tools. The Makani has advanced ionic technology, which helps your hair dry faster and locks in moisture for longer. Its two speeds and three heat settings allow you to easily adjust based on the style you want.