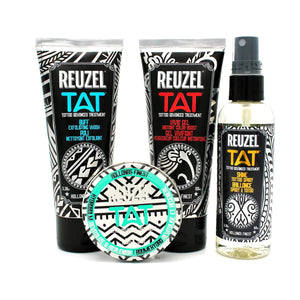 Reuzel TAT Tattoo Aftercare
Step #1 of the TAT routine. BUFF is an effective yet gentle natural tattoo cleanser loaded with fruit enzymes to rapidly exfoliate tattoo skin cells and remove dulling surface debris from the skin. When you have fresh ink or want a tattoo brightener that won't strip away the color, we've got the best soap for tattoo aftercare and rejuvenation.
Step #2 of your TAT routine. Deeply hydrating tattoo balm that helps brighten healed tattoos and moisturize your canvas. With shea butter and papaya extracts, this tattoo brightening aftercare balm protects the crisp edges from stretching or blurring. Dry, flaky skin hides the ink and stretches skin. Keep your old or new ink front and center with the best tattoo balm for old tattoos and freshly healed body art.
Step #3 of your TAT routine. Revolutionary, all-natural hydrating tattoo gel that creates a moisture barrier on the skin while quickly enhancing the color of your tattoo. Get your shine on with VIVID tattoo gel before you leave the house to bring your colors along for the ride. Did you get that glorious ink job so that you could be easily overlooked? We think not.
BONUS Step! Shine Spray. Add definition and radiance to your healed tattoo with this non greasy, quick dry formula.